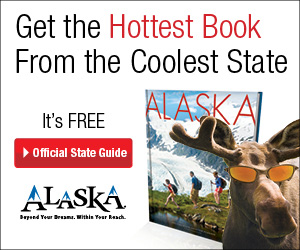 This freebie is available again!  Oh Alaska. . .how I love you so. I grew up there in a small town in the center of the state. I hope everyone gets a chance to visit at least once in your life – and the state of Alaska thinks so, too. They are giving out FREE Alaska travel magazines – which are full of great photos and articles. I request one every year – even my kids love looking at the photos.  Request your FREE Official State Alaska Guide here.
We try to visit at least once a year to see my mom, dad, sister and brother.  Here are some photos of our past trips:
View of the Alaska pipeline and mountain range
My son picks raspberries with my mom. He ate most all of them before they made it into his bucket.