Organizing your coupons is key to being successful. If you can't find a coupon – it does you no good, right!? You want a system that works for you and your style. I recently switched from my coupon binder to a box.
HOW TO SET UP YOUR COUPON BOX
If you're a visual person – watch my video first! I cover most of these details in my Organize your Coupons in a Box video

If you don't see the video you can view it here.
Find the right box. If you don't have the right box, you won't keep up with it. It has to be the right width and size for you. See if you have a FREE box at home – try a shoe box, a photo box, a small rubbermaid box. This is the exact item I purchased from Office Depot. It's a Really Useful Boxes(R) Plastic Storage Box, 6.5 Liters, 6 1/4in.H x 7in.W x 17 1/2in.D, Clear
 – for about $9.99. Although it costs more, it's very durable and I can use it for something other than coupons if I ever decide to stop using it.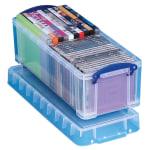 This box is very narrow and long, so it fits perfectly in the baby seat of the shopping cart!
When I first started couponing, I used a hard-sided photo box and business envelopes (see below). This lasted for a couple years before I needed a change and switched to the binder method. Nothing fancy – but inexpensive to start up and very easy to use.
Envelopes or card stock. I used leftover card stock from my wedding invitations (7.5 years old)! I used a paper cutter to cut them to the width of the box and folded in half – like file folders. You can also use envelopes, but I opted not to because they felt harder to open and look through. Try out a few different options – hold them, flip thru them and "take them for a test drive" before you make a whole box of them.
Labels. I used Avery address labels template 5160 and printed off A-Z labels. I rotated the text to go sideways on the label so I could use it as a tab.I split each letter into two folders to make it easier to file and find my coupons – for example A-AK and AL-AZ. If you decide to use envelopes, you can use a piece of card stock sticking out of the top with the letter on the top or use the same kind of labels.
Download my label templates here:
Store-specific envelopes. For store specific coupons like Target, Safeway or Fred Meyer coupons – you can make envelopes just for your store coupons. I didn't bother to label these because they aren't as durable and it was easy enough for me to tell which store they were for.
Add your contact information. Make sure your name and phone number are clearly, and permanently, marked on your coupon box (or binder). Think about how heartbroken you would be if you lost it!
Don't clip all your coupons if you don't have to. I still believe strongly that it's best to organize most of your coupon inserts by date and to avoid clipping them until you actually need them for a sale. When you see them listed in a weekly match-up or you find them listed in the Queen Bee Coupon database – then go and clip them. Of course I clip the coupons I know I'll use or I know will make for a good deal and I'll put them in my box. See my post about organizing your coupon inserts here.
PROS AND CONS OF THE COUPON BOX VS. BINDER
Pros:
It's so much easier to clip and file your coupons – Just make alphabetical piles when you are clipping your coupons. When you are done, just drop them into their corresponding folders/envelopes. No folding and squeezing to get them into baseball card page slots. You can staple or paper clip similar coupons together for easy sorting.
Much less expensive to set up. Find a free box around your home or spend less than $10. Use envelopes or card stock from your supplies at home.
Cons:
When it comes time to finding a coupon on the fly, you have to go through all the coupons in the folder. Whereas with a binder, you can flip through and look at the pages – which I think is easier for spotting coupons. 

Don't drop it – you'll have a mess. If I dropped my box, I might have to cry. Coupons would be everywhere, whereas the binder pages hold your coupons in a little bit better.
I am very excited about my new box method of organizing my coupons and I hope this post is helpful for you!

See my coupon binder tutorial here